18 Nov 2021
Why exhibit at DPC2022?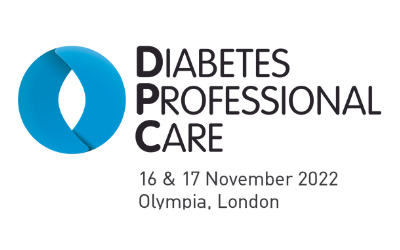 Many of our exhibitors and sponsors return year on year – and with access to thousands of prescribers, payers and influencers, they have good reason to.
DPC2022 will bring you into direct, face-to-face contact with thousands of professionals with the responsibility for prescribing, recommending, commissioning and financing diabetes care.
They visit the show to increase their awareness and deepen their knowledge of diabetes healthcare solutions, and meet people like you, who are behind the developments and technologies.


What do our exhibitors think?
"First of all it's great to be back for live conferences, it's been really, really busy, a lot of engagement and a lot of energy, people show a real interest and want to learn. We have had a very busy two days on the stand, we have had a lot of engagement from many different healthcare professionals from consultant endocrinologists, diabetologists, DSN's and dieticians which are crucial to us within Viatris, all having real engagement with us, taking a lot of real-life material away from our stand and really allowing us to get a lot of follow up. One of our key objectives is to really expand within diabetes, build relationships, understand challenges, and follow up after DPC so it's been really successful."
Christopher Hall – Brand Manager, Viatris
"The level of engagement that we have had with the people here and the open dialogue has been great at DPC, it's been really good,''
David Eyre – General Manager UK & Ireland, Arkray
Book your place
Our team are here to make sure that your experience at the show meets your expectations and that you achieve your objectives. We can offer bespoke packages to ensure DPC meets your specific requirements.
Contact the team on:
Why sponsor?
Participating at DPC2022 is geared to helping your company gain traction amongst our audience of highly motivated health professionals, scientists and researchers.
The benefits:
Lead generation and support for stand presence
Raising brand awareness
Directing traffic to your stand
Winning thought leadership
Creating positive PR, building reputation and familiarity
Flagging up launch products and services
Support for dedicated sales and promotional campaigns
Creating awareness and marketing via branding outside the event, both pre and post-event
Download a sponsorship brochure here
DPC returns to Olympia London in 2022 on 16 & 17 November.