27 Oct 2021
Vulnerable people with diabetes in the spotlight at DPC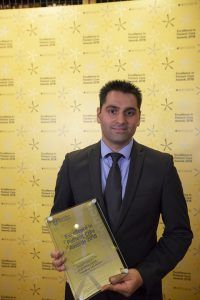 The management of diabetes in vulnerable people living in care and nursing homes will be a hot topic at DPC year, as prevalence of diabetes in older people is set to increase.
In 2019, it was estimated that globally, 19.3 per cent of people aged 65-99 years live with diabetes. It is projected that the number of people older than 65 years (65-99 years) with diabetes will reach 195.2 million by 2030 and 276.2 million by 2045.
DPC will examine the issues associated with the care of older people with diabetes at a dedicated session, 'Practical tips for managing diabetes in the vulnerable in care and nursing homes', which will be led by a panel of expert speakers.
One of them is Dr Amar Puttanna, a Diabetes and Endocrine Consultant in the West Midlands, who has been involved in writing guidelines on caring for older adults with diabetes with the Joint British Diabetes Societies (JBDS), and guidelines/patient leaflets for Trend Diabetes on diabetes and dementia.
Dr Puttanna, who has a special interest in education, said: "Together with my fellow session members, I will be going through the important considerations when managing those with diabetes in such facilities. We will aim to discuss key management considerations, risk reduction and medical therapies as well as provide real world examples of effective interventions and offer practical tips for attendees to put into practice from day one."
Joining Dr Puttanna will be:
Chair: David Strain, Clinical Senior Lecturer and Honorary Consultant – University of Exeter Medical School
Sarah Davies, a GP with a special interest in diabetes – Woodlands Medical Centre, Cardiff
Sarah Gregory, Clinical Lead (Diabetes) – Medway Community Healthcare
Dr Puttanna added: "I am looking forward to this year's DPC conference due to the variety of content being discussed from eminent specialists in the field. The topics and speakers are impressive and highlight how well respected DPC is in delivering important educational content in all aspects of diabetes care.
"As always, the opening keynote by both NHS England diabetes leads will be important. There are several sessions – from diabetes care in the young through to cardiovascular and renal updates, discussions on inpatient care and diabetes technology and so much more – that I'm looking forward to.
"I hope you all will join us for one of the highlights of the year in terms of HCP education in diabetes."
Where to hear this talk:
Wednesday 10th November
16:25 - 17:25
Diabetes Through all Ages