14 Nov 2019
Type 2 prevention and technology access dominated Keynote Speech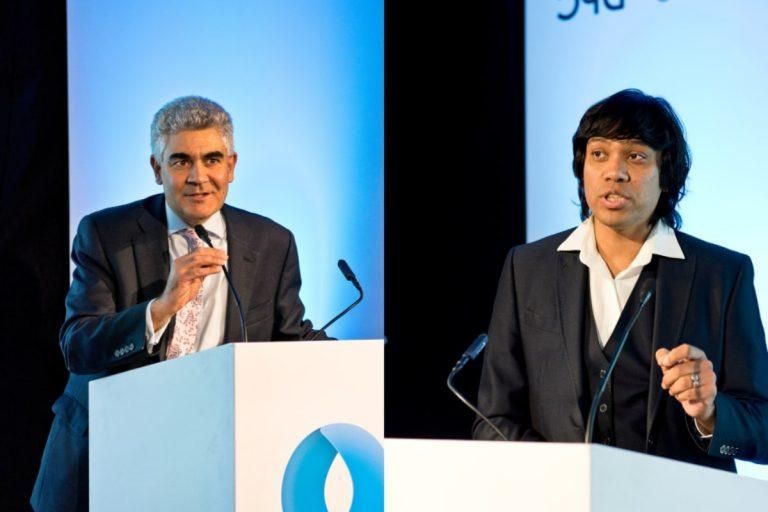 The subject of type 2 diabetes prevention and technology for people with type 1 diabetes dominated the Keynote Speech at Diabetes Professional Care (DPC2019).
Professor Jonathan Valabhji OBE, National Clinical Director for Diabetes and Obesity and Professor Partha Kar, National Specialty Advisor for Diabetes, once again took to the stage to outline what future plans NHS England has in regard to diabetes.
Professor Valabhji opened his speech saying it had been an "interesting five years".
He added: "We've done well, I think, in terms of keeping diabetes in the spotlight and that's due to a number of partners and stakeholders that we work with."
Also a Consultant Diabetologist and Professor of Practice, he referred to the Five Year Forward Review which was published in 2014.
He said: "Back then it was only an ambition to become the first country in the world to establish and roll out across the country a national, evidence-based type 2 diabetes prevention programme.
"We began working on that within six months of publication and last summer we became the first country internationally to achieve that ambition."
He said enthusiasm from GP surgeries and people at risk of type 2 diabetes had been high, so target attendance rates have been exceeded which have led to capacity issues.
When Professor Kar took over, he chose to focus on technology among those with type 1 diabetes, introducing a new web resource built by people living with the condition.
He said: "The simple premise was when you're diagnosed with type 1 diabetes, rather than going to Google, they can go to a place where lots of the information is already available. It's been built with NHS Digital and has been very popular."
Professor Kar, who has also been a Consultant in Diabetes and Endocrinology at Portsmouth Hospitals NHS Trust since 2008, also discussed the "Libre Battle".
He added: "We started in October 2017 when we didn't have any Libre on the NHS, then the Libre landed November 2017 and as of April 2019 there isn't a single Clinical Commissioning Group (CCG) in the country who now say no. Everybody is giving them out, it's just being done at different paces."
DPC founder Maggie Meer also greeted delegates, thanking everyone for their support, including James Potter.
His organisation Rokstone donated a generous Travel Bursary, which allowed 130 nurses to travel to DPC2019 completely free of charge.
Addressing the delegates of DPC, Maggie said, "I'm immensely proud to be stood here today, announcing the start of DPC2019. I'm proud because when we started the show back in 2015 our ambition was to provide free education to the NHS, to improve quality of care for people with diabetes. Today and tomorrow we'll be welcoming a record-breaking number of delegates and in response to this increased level of interest, we've graduated to the National Hall."
She added, "I just want to make a difference and by doing DPC I know I can help you to get more education. We have a strong, passionate, long-term commitment to improving diabetes care through education."