10 Dec 2019
Top podiatrist tells DPC basic screening is essential in tackling diabetes-related amputations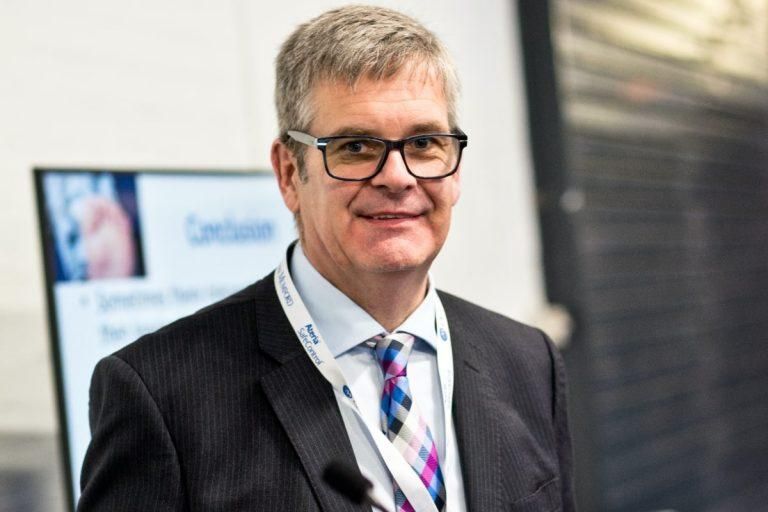 A top expert is urging healthcare professionals to get the basics right to prevent "drastic things happening to people's feet".
Podiatrist Graham Bowen made the appeal at Diabetes Professional Care (DPC2019), which this year welcomed a record-number of attendees to the two-day show.
Once again, the Southampton-based Clinical Lead for Podiatry led the DPC Foot & Wound Clinic on both days of the conference. This involved a dedicated programme, including a series of hands-on workshops at the UK's largest free-to-attend, CPD-accredited conference for healthcare professionals who care for people with diabetes, and its related conditions.
Graham, who is concerned at the increased number of people he is seeing with foot problems, said: "The foot is the biggest complication people with diabetes face. From a health outcomes point of view, diabetes foot disease has a 50 per cent five-year mortality rate after a new diabetes ulceration.
"These rates are higher than those for several types of cancer including prostate, breast, colon, and Hodgkin's disease. If someone has a foot ulcer and/or an amputation, their chance of survival at five years is halved. More worryingly, it's something the average person probably isn't aware of.
"In addition, diabetes-related foot problems are the leading cause of admission to secondary care, so good foot care is really key. Basic things can prevent drastic things happening to people's feet."
Graham has attended DPC from the very beginning and has worked in partnership with the organisers since 2017 to develop a dedicated DPC Foot & Wound Clinic which addresses the need for vital education in this area of care.
He said: "This is my fifth time at DPC and this year we're running the third year of the Foot & Wound Clinic. It's an amazing conference and I'm really proud to be part of it. It's a massive conference opportunity to hear many speakers and it's in central London so there's great access. But the key aspect is that it's free, so it gives healthcare professionals the opportunity to hear the latest updates on diabetes, including everything around the foot in diabetes, from screening right up to the acute foot."
He added: "We know that 95 percent of amputations start with a single foot ulcer, so our key focus in the Foot & Wound Clinic this year was to give healthcare professionals, from the entire multi-disciplinary team, the practical skills and education to spot the signs early. If we can get the screening, identification of foot risk, education and appropriate timely referral to the right team, we can prevent foot ulcers, which can prevent those amputations.
"I'm pleased to say our sessions were all very well-attended and I felt we successfully shared knowledge and listened to visitors and their concerns, giving them advice and pointing them in the right direction for further guidance. Hopefully people who attended our sessions came away with increased knowledge on the foot and diabetes, which in turn, they will pass onto the people they care for back in practice."
The DPC Foot & Wound Clinic returns with another CPD-accredited programme at the sixth annual conference, held at Olympia, London on 11 & 12 November 2020 and will remain free to attend for all healthcare professionals, commissioners and service leads.