06 Dec 2022
Record-breaking number of healthcare professionals attended Diabetes Professional Care event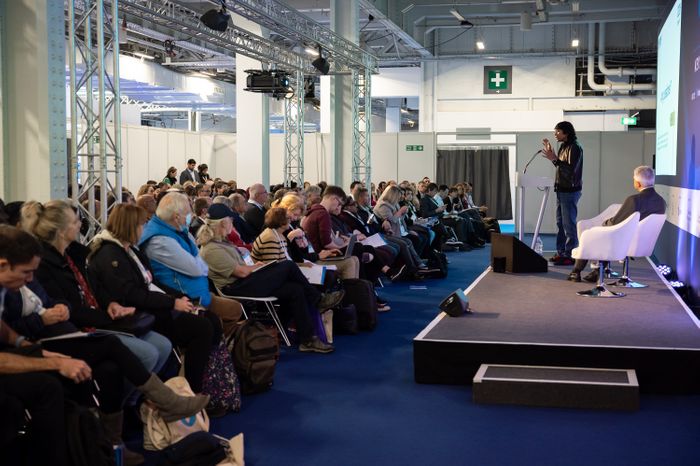 Last month we were incredibly proud to welcome a record-breaking number of healthcare professionals to Diabetes Professional Care.
It was fantastic to see such a wide range of healthcare professionals from across the diabetes community hear about the most recent advancements in diabetes care.
We were very grateful to all our sponsors for their incredible support and to our world-leading speakers who shared their expertise so generously.
Thanks to them we were able to put together a high-quality programme filled with sessions which reflected the latest best practice and knowledge in diabetes care.
Professor Partha Kar and Professor Jonathan Valabhji provided updates on the NHS Diabetes Programme in the Keynote Theatre.
Professor Roy Taylor talked about remission of type 2 diabetes, Dr Amar Puttanna covered diabetes and dementia, Dr Jim Moore, President of Primary Care Cardiovascular Society, reviewed the latest evidence SGLT2 inhibition in people with heart failure and Dr Jen Unwin spoke about new research into food addiction.
Other highlights on the first day included the DSN Forum Big Diabetes Quiz of the Year, Professor Pratik Choudhary spoke about how to use CGM in primary care and Dr Rose Stewart discussed mental health and diabetes.
There was a talk about diabetic retinopathy by Dr Rebecca Thomas on the second day where there was also a presentation from Professor Alan Sinclair about implementing the 2022 National Advisory Panel for Care Home (NAPCHD) Diabetes recommendations.
Diabetes and Endocrinology Pharmacist Ines Fonseca, Dr Kevin Fernando and Professor David Strain also took part in the Big Guideline Debate. Dr Omar Mustafa provided an update on JBDS guidelines and June James, Co-founder and Co-chair of Trend Diabetes talked about diabetes hyperglycaemic emergencies.
It was wonderful to see these incredible speakers – and so many others – as well as a fantastic range of exhibitors showcasing the latest products and services which are transforming diabetes care.
So, it is with great pleasure that we can announce that work has already begun on the Diabetes Professional Care 2023 conference.
Next year's event will take place on November 15 and 16 at Olympia London and we promise that its programme will once again be filled with accessible education that will arm attendees with the skills and knowledge they need to provide the best possible care for people living with diabetes.
To register your interest for next year's event, visit here.