19 May 2021
Professor Rayman MBE calls for 'collaborative working' and a proactive approach to reduce variation of care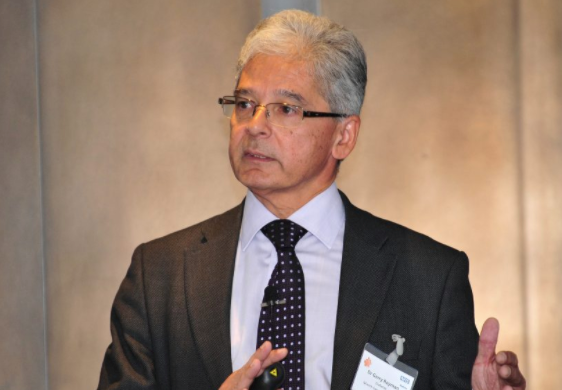 A top diabetes expert says he finds it "astonishing" at how many insulin errors are still being made in hospitals across the country.
"I would say the vast majority of hospitals have no mandatory training in insulin safety and when you think that this is the fourth most dangerous drug used in hospitals, this is very concerning," explains Professor Gerry Rayman MBE, who is Joint Clinical Lead for Getting it Right the First Time (GIRFT.
Speaking during the first episode of DPC's Spring Forum series, he commented, training has been made mandatory in those trusts that have had a death from an insulin mistake made.
"Do we have to have a death in every single hospital before we change practice?" he asks.
During the session, entitled 'GIRFT 2020 into Practice – Inpatient Care', Professor Rayman explains how he recommends all hospitals should introduce a multidisciplinary diabetes inpatient team (MDIT) which can involve a variety of different disciplines including pharmacists, advanced practitioners, physician assistants as well as diabetes specialist nurses.
"These teams need to meet regularly to understand the barriers to delivering good care, to exchange ideas on how to surmount these, to innovate and to audit outcomes of change in practice. This approach and collaborative working needs to be embedded into the practice of inpatient diabetes care " he says.
During his presentation Professor Rayman also expressed surprise at how very few hospitals were able to identify all admissions with diabetes. In several its was not until the patient experienced severe hypoglycaemia or diabetic ketoacidosis (DKA) that the diabetes team were made aware of the patient. This reactive approach has got to stop. We need to be proactive.
"Every patient with diabetes needs to be logged and monitored from admission," he says.
"Together with web-based blood glucose monitors which allow tracking of patient's glucose value remotely this will allow identification of those likely to get into trouble before it happens." This proactive approach is a must and is one of the main recommendations in the GIRFT report.
Professor Rayman was joined online by Dr David Strain, Clinical Senior Lecturer and Honorary Consultant at the University of Exeter Medical School and Professor Ketan Dhatariya, Consultant in Diabetes, Endocrinology and General Medicine and Honorary Professor of Medicine at the Norfolk and Norwich University Hospitals NHS Foundation Trust.
The DPC Spring Forum is a series of five FREE, CPD accredited, independently produced webinars that give attendees a unique view of what diabetes care will look like in 2021 and beyond.