10 Nov 2022
Prestigious national nursing award for Community Diabetes Nurse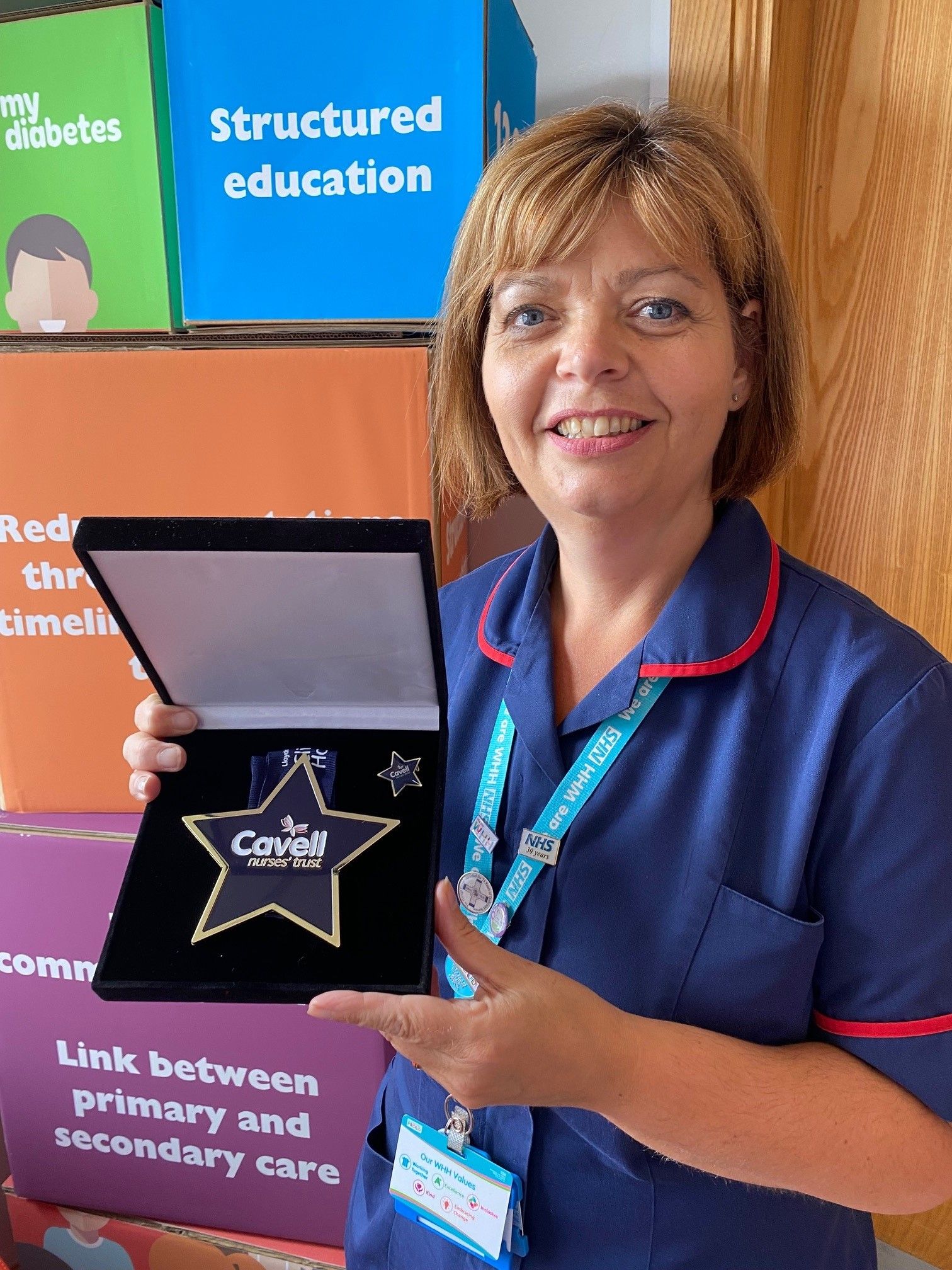 A Community Diabetes Nurse at Warrington and Halton Teaching Hospitals NHS Foundation Trust has been awarded top nursing award
A Community Diabetes Nurse at Warrington and Halton Teaching Hospitals NHS Foundation Trust has been awarded a prestigious national nursing award for going above and beyond during the pandemic and working additional hours to support her team.
Liz Atkins has worked for the Trust for five years, four days a week, but when the Covid vaccination programme started at the hospitals in late 2021 Liz volunteered her spare time to vaccinate her colleagues, patients and communities to help protect them.
In recent months, Liz has continued to support her patients by taking on additional hours within the community clinic they share to ensure continuity and care for their patients.
She has also recently completed her Professional Nurse Advocate (PNA) qualification. PNA is a new qualification which will equip nurses to lead, support, advocate and deliver improvements to patient care and support the development and wellbeing of other nurses.
The new position was introduced by NHS England and is a world-first Masters-level accreditation.
Cavell Star Awards are presented to nurses, midwives, nursing associates and healthcare assistants who shine bright and show exceptional care.
The award was designed to give nursing and midwifery teams across the country a morale boost and it is a way to say a big thank you for the incredible work they do every day for their patients.
Liz was nominated for the award by her manager, consultant nurse Lesley Mills, who said: "Liz has been a constant team member supporting those around her.
"She stepped up to help with the vaccination programme and in times where the pressure on the community service needed more support.
"She has developed methods for supporting the team's health and wellbeing – encouraging us to take a walk at lunch time.
"She is an excellent role model, and we are very proud to have her in our diabetes team."
Liz added: "I am honoured to receive this award; it is even more special that I was nominated by my team.
"I am a cog in this Diabetes Team and without the support of this wonderful team I wouldn't be able to achieve what I have. I couldn't have achieved what we did during Covid without my team.
"Everyone has worked so hard during Covid to care for our patients on the wards and I have been able to continue that care in the community."