Pioneering diabetes HbA1c POC testing solution launches at DPC2021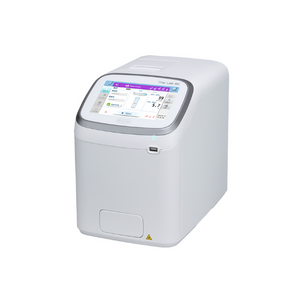 ARKRAY's The Lab 001 uses cutting-edge technology to provide HbA1c results in just 90 seconds.
This latest diabetes testing technology – the fastest of its kind – is now being supplied directly to the UK by Japanese company ARKRAY, a global pioneer in diabetes innovation for more than 60 years.
The Lab 001 uses capillary electrophoresis technology in a compact device providing high quality HbA1c results whilst dramatically reducing patients' wait time.
A simple fingerpick sample can be used for measurement. The droplet of blood is applied to a disposable reagent cartridge and inserted into the analyser. The Electropherogram generated indicates the HbA1c value along with any clinically significant variants.
Accurate HbA1c results can be obtained even in the presence of Sickle Cell anaemia, raised HbF and other variants, thus aiding the clinician in the accurate interpretation of results.
David Eyre, ARKRAY's General Manager for the UK & Ireland, said: "The Lab 001 represents a massive step forward for point of care HbA1c testing technology, combining laboratory accuracy, reliable results and easy-to-use functionality. It is the latest in a line of products from ARKRAY which have been designed to support clinicians' diagnosis and improve the care of people with diabetes.
"We are proud to launch The Lab 001 at an event as highly-regarded as DPC2021, and we look forward to providing live demonstrations to showcase its efficiency and accuracy."
DPC2021 delegates can find ARKRAY at stand C41.