10 Nov 2022
NHS heroes recognised at Quality in Care (QiC) Diabetes Awards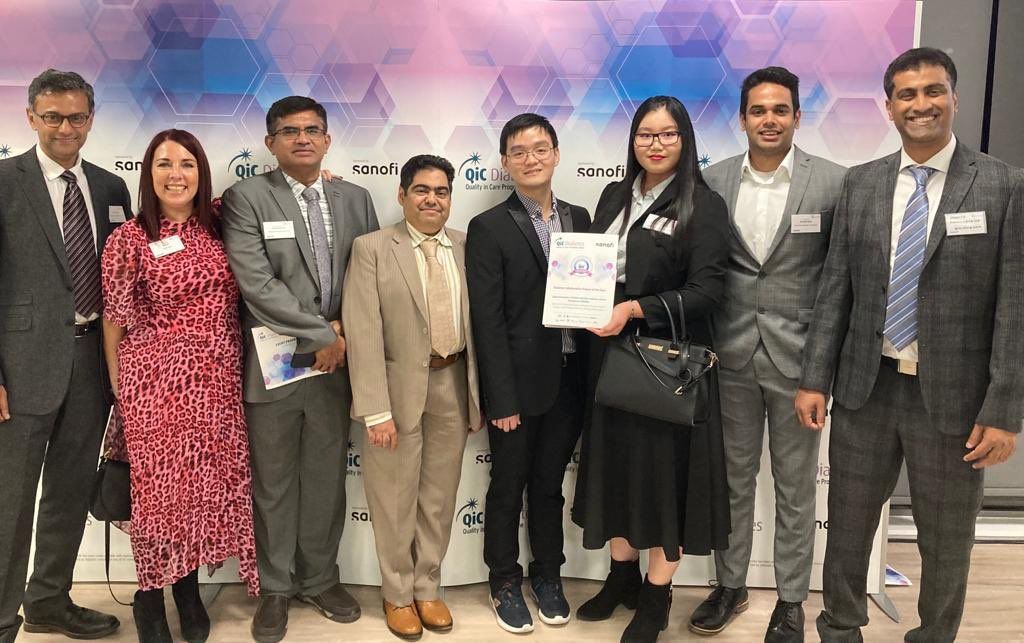 Teams praised for their exceptional work to improve diabetes care during the pandemic at the Quality in Care (QiC) Diabetes Awards
High profile awards have been presented to teams that have provided exceptional diabetes care throughout the Covid-19 pandemic.
The 12th annual Quality in Care (QiC) Diabetes Awards were held last month at Sanofi's UK headquarters in Reading to recognise initiatives that improve the quality of life for people living with diabetes.
This year's awards focussed on the incredible work that has been undertaken throughout the pandemic, which in many cases has proved to be a catalyst for significant change in treatment and options available for people with diabetes and, or their families and carers.
Jessamy Baird, Country Lead and Head of General Medicines for Sanofi in UK and Ireland, said: "It is truly a real honour to support the QiC awards as they recognise and reward our NHS heroes who continuously go above and beyond to improve the lives of people with diabetes with such passion, commitment and enthusiasm.
"The QiC diabetes programme is not only about celebrating innovation, service improvement and success, but also about sharing best practices across the NHS. We congratulate everyone and thank them all for such a tireless and heroic contribution to high-quality diabetes care."
Diabetes Education Programmes – Healthcare Professionals
WINNER: 'DEVICE' (Diabetes Emergencies: Virtual Interactive Clinical Education) Project by DEVICE Project Team and Oxford Medical Simulation
HIGHLY COMMENDED: Eden/Sanofi Cares Programme by Leicester Diabetes Centre
COMMENDED: SANDRA – Supporting practice Nurses in Diabetes Care Revalidation & Appraisal by NHS Grampian
FINALIST: Finite Resources: Infinite Possibilities to Maintain Diabetes Education and Support During the Challenges of COVID-19 and Beyond by Manchester University NHS Foundation Trust
Patient Care Pathway, Secondary and Community
WINNER: North-East London Type 1 Diabetes Transformation (NATALIE) Project by North-East London (NEL) Sustainability and Transformation Project (STP)/Barts Health NHS Trust/Homerton University/Clinical Effectiveness Group
COMMENDED: Pharmacist Led GLP-1RA Initiation Clinic in a GP Practice by NHSAAA
Diabetes Education Programmes – People with Diabetes
WINNER (JOINT): Teaching "Dynamic Glucose Management" using digital "Flipped Learning"
by Birmingham Women's and Children's Foundation Trust
WINNER (JOINT): Deapp - Structured Diabetes Education Designed to be Fun and Simple for Patients, Families and Staff by HEAL.med Community interest company – Deapp
Equality, Diversity and Health Equalities
COMMENDED: Sheffield's South Asian Support Pilot by Sheffield CCG
Clinical Pathways Using Technologies
WINNER: Assisting Bradford and Craven Beating Diabetes (ASSIST BCD) by Bradford District and Craven Health and Care Partnership
HIGHLY COMMENDED: Diabetes Clinic @ Home by Swansea University Medical School
Type 1 Specialist Service
HIGHLY COMMENDED: Redesigning Outpatient Type 1 Diabetes Service by NHS Dumfries and Galloway
Diabetes Collaborative Project of the Year
WINNER: Virtual Schools Training Package by Birmingham Women's and Children's Foundation Trust
HIGHLY COMMENDED: Diabetes Health Matters with Dr Joan St John by Diabetes Africa
COMMENDED: ComPASSION by University Hospitals Dorset
FINALIST: Scottish Diabetes Care Quality Dashboards by NHS Education for Scotland Technology Service
FINALIST: Diabetes Prevention Norfolk and Waveney by Norfolk and Waveney
FINALIST: Digital Evaluation of Ketosis and Other Diabetes-related Emergencies (DEKODE)
by University Hospitals Birmingham, Sandwell and West Birmingham Hospitals, Walsall Healthcare NHS Trust, University of Birmingham
Wellbeing
WINNER: Improving Mental Health in People with Recurrent Diabetic Ketoacidosis by Bart's Health & East London Foundation Trust
Insulin Safety Week Award
WINNER: Bedfordshire Hospitals NHS Foundation Trust Luton and Dunstable
FINALIST: Betsi Cadwalader University health Board
FINALIST: St George's University Hospitals NHS Foundation Trust
FINALIST: University Hospital of Morecambe bay NHS foundation Trust
NHS England Outstanding Contribution Award for Services in Diabetes
WINNER: Coventry Diabetes Team
NHS Wales Outstanding Contribution Award for Services in Diabetes
WINNER: Alison Ellis – Diabetes Specialist Nurse in Cardiff and Vale Health Board
Judges' Special Award
WINNER: 'DEVICE' (Diabetes Emergencies: Virtual Interactive Clinical Education) Project
by DEVICE project team and Oxford Medical Simulation
Unsung Hero Award
WINNER: TDFC London
Diabetes Professional of the Year
WINNER: Dr Stephen Stanaway
Outstanding Educator in Diabetes
WINNER: Fiona Munday
The People's Award
WINNER: Lochlan Murdoch
Quality in Care Diabetes is partnered with Sanofi and supported by the Association of British Clinical Diabetologists (ABCD), Association of Children's Diabetes Clinicians (ACDC), Children and Young People's Diabetes Network (CYPDN) , the Diabetes Inpatient Specialist Nurse (DISN) UK Group, The Diabetes Specialist Nurse Forum (DSN) UK, Diabetes Research & Wellness Foundation (DRWF), Diabetes UK, JDRF the type 1 diabetes charity, Primary Care Diabetes Society (PCDS), Trend Diabetes, Young Diabetologists and Endocrinologists' Forum (YDEF) and the United Kingdom Clinical Pharmacy Association (UKCPA).