10 Nov 2022
Introducing Podium: Identify diabetic foot conditions with new thermal imaging technology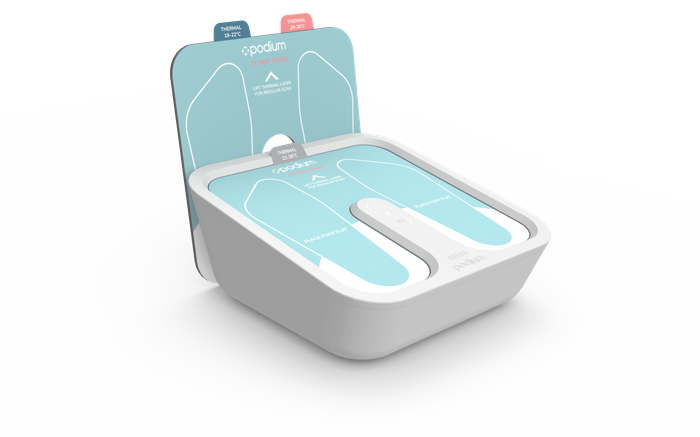 Healthcare professionals working in diabetic footcare now have a new diagnostic tool
Healthcare professionals working in diabetic footcare now have a new diagnostic tool that helps to identify complications early on and improves patient outcomes.
Podium displays a full temperature map of the soles of patients' feet, which provides additional information to aid treatment decisions, monitor outcome of interventions and improve patient compliance.
The portable device can be used to identify:
Diabetic Foot Ulcers (DFU)
Neuropathic foot
Micro- and Macroangiopathy
Peripheral Arterial Disease (PAD)
Acute Charcot
Raynaud's
Musculoskeletal Trauma (MSK).
Along with providing visual and clear feedback, Podium facilitates regular monitoring to help maintain healing.
Ideal for multidisciplinary teams, Podium can help to reduce demand on secondary care through integrating secondary, community and primary care.
Russell Payne, CEO of Thermetrix – which produces Podium, said: "Podium enhances patient care by providing crucial, timely information and identifying issues earlier to shape treatment pathways".
"We're looking forward to showcasing this latest technology at DPC 2022 and demonstrating how Podium can provide invaluable information at the touch of a button to improve patient outcomes."
Patient scans are automatically stored on Podium's cloud-based portal for historical retrieval and analysis. It can be used on any browser, comes with automated backups, and is fully GDPR compliant.
A lease option is available for Podium at just £197.63 a month. Find out more by emailing sales@podium.care, calling 01443 303151 or visiting www.podium.care.
View Podium at the Thermetrix' stand (G56) at Diabetes Professional Care 2022.