14 Nov 2019
Interactive NHS Park got people active at DPC2019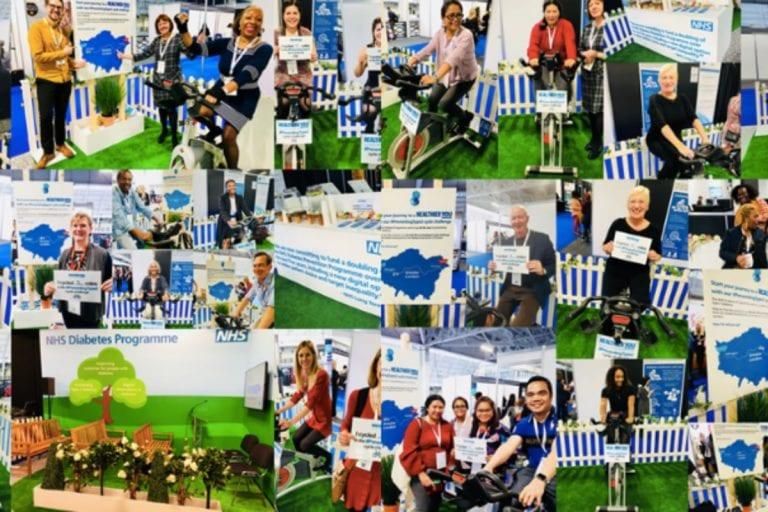 The interactive NHS Park at Diabetes Professional Care (DPC2019) was one of the most popular spaces for delegates to visit.
Hosted by the NHS Diabetes Programme, the green space was located upstairs at Olympia London and had a focus on living well.
It gave DPC2019 visitors the unique opportunity to learn about how the NHS is making the Long-Term Plan commitments a reality and helping to improve the health of the nation, while also driving down type 2 diabetes rates.
The space was split into four zones; the type 2 prevention zone, the digital zone, the treatment and care zone and the NHS presentation zone. All areas were open to anyone visiting the UK's largest, free-to-attend, CPD-accredited conference for healthcare professionals involved in the prevention, treatment and management of diabetes, and its related conditions.
DPC founder Maggie Meer said: "We share many of the same objectives as the NHS Diabetes Programme. We're all about helping healthcare professionals to improve outcomes for people living with diabetes, harnessing the power of pioneering digital technologies as a way to support them and promoting an integrated approach to tackling type 2 diabetes prevention."
Visitors to the NHS space also got to take part in the #PreventingType2 cycle challenge where delegates were encouraged to hop on a stationary bike and cycle as far as they could. The challenge was to complete a 42-mile journey from Havering, the Easternmost point of Greater London, to Hillingdon, the Westernmost point of the city.
More than 50 people participated over the course of the two day show and some even formed relay teams. Not only did attendees manage to complete the entire 42-miles, but they also got half of the way back again too.
A mini-theatre also featured at the NHS Park which was used by the NHS Diabetes Programme team to deliver their own additional presentation schedule to amplify the learning opportunities at DPC2019.
Among the NHS presentations, low calorie diets and whether they can be used to treat obesity and type 2 diabetes were discussed, in addition to an update on The Healthier You: NHS Diabetes Prevention Programme.