01 Aug 2022
Guest blog: Julie Brake, Nurse Consultant – Diabetes, ACP Lead Liverpool University Hospitals Foundation Trust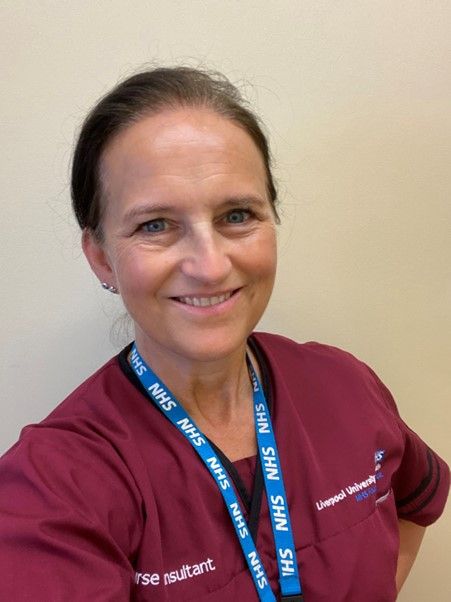 Clinical Nurse Specialist and Advanced Clinical Practitioner: What's in a name?
Across the NHS and different health care professions, there is long standing confusion and poor understanding around the roles of the Clinical Nurse Specialist (CNS) and the Advanced Clinical/Nurse Practitioner (ACP) (Cooper 2019).
This has not been helped by the range of role titles used across the NHS, which adds further to the confusion. This was highlighted by Leary et al (2017) who collected data regarding job titles from nearly 18,000 nurses within specialist posts. The most common titles were CNS (6,721), Nurse Specialist (2,334), ANP (2,214), and Nurse Practitioner (1,977). Of concern was that 323 of these nurses within specialist nursing posts did not appear to be registered nurses.
Although the title of 'Registered Nurse' is protected legally requiring registration with the Nursing and Midwifery Council, the title 'Nurse' is not, neither are titles such as Nurse Specialist or Nurse Practitioner. Other countries have formally protected titles such as Nurse Practitioner, and additional registration is required in order to use this (Carter 2010). Within the UK, despite definitions, standards, frameworks and registries developed by nursing bodies and the NHS, these are not mandatory before using the title CNS or ACP. (RCN 2018, Health Education England 2017).
Differences between ACPs and CNSs
The ACP and CNS can be found in almost all clinical specialties. However, ANP roles are often in more generalist areas such as general practice, emergency departments, critical care or broad specialist areas such as sexual health or nephrology. CNS roles are more commonly found in more specific clinical conditions such as diabetes, epilepsy and heart failure (Begley et al, 2013).
There is considerable overlap in these roles. The CNS role tends to be highly specialised with greater depth of knowledge within one disease area, whereas the ANP has a broader range of knowledge across a clinical field. Educational curricula leading to both roles can also be different, in that CNS further education and learning is mostly specialised and nursing-based, whereas the goals of the ANP educational pathway are broader and more medically based (Cooper 2019).
CNSs work at an enhanced level with specific knowledge within their specialist field of expertise and will manage aspects of the care pathway particular to their level of specialist knowledge, whereas the ACP will have knowledge and skills developed to an advanced level across the whole pathway of care. ACPs will generally manage the patient through presentation, assessment, treatment and discharge, without the need for medical review (Mortimore et al 2021). For example, a CNS in diabetes will have highly specialist knowledge in caring for, or supporting, a person with diabetes and may also sub-specialise in insulin pump therapy, antenatal diabetes or care of the young adult. An ACP in Diabetes and Endocrinology will have a broader knowledge across all aspects of diabetes and endocrine conditions including a degree of knowledge across the subspecialities. ACPs will also have a broader general medical knowledge and be involved in managing other medical conditions which could affect the persons diabetes or endocrine outcomes.
Previous studies have identified that both Clinical Nurse Specialist and Advanced Clinical Practitioner roles improve quality of care and patient satisfaction (Kippenbrock et al 2019, Kleinpell et al 2019, Kilpatrick et al 2020). However, some evidence suggests that advanced practice roles can provide further improvements in service delivery, greater clinical and professional leadership, increased research, and a clear governance and accreditation structure (Begley 2013). This may help to improve the uptake of ACP roles in areas like Diabetes and Endocrinology which historically have been at the forefront of the CNS role but appear to be lagging in the development of ACP posts across the NHS.
Begley, C., Elliott, N., Lalor, J., Coyne, I., Higgins, A. and Comiskey, C.M., 2013. Differences between clinical specialist and advanced practitioner clinical practice, leadership, and research roles, responsibilities, and perceived outcomes (the SCAPE study). Journal of Advanced Nursing, 69(6), pp.1323-1337.
Carter, N., 2010. Clinical nurse specialists and nurse practitioners: title confusion and lack of role clarity. Nursing Leadership, 189.
Cooper, M.A., McDowell, J., Raeside, L. and ANP–CNS Group, 2019. The similarities and differences between advanced nurse practitioners and clinical nurse specialists. British Journal of Nursing, 28(20), pp.1308-1314.
Health Education England., 2017. Multi-professional framework for advanced clinical practice in England. London: Health Education England.
Kilpatrick, K., Tchouaket, É., Jabbour, M. and Hains, S., 2020. A mixed methods quality improvement study to implement nurse practitioner roles and improve care for residents in long-term care facilities. BMC nursing, 19(1), pp.1-14.
Kippenbrock, T., Emory, J., Lee, P., Odell, E., Buron, B. and Morrison, B., 2019. A national survey of nurse practitioners' patient satisfaction outcomes. Nursing outlook, 67(6), pp.707-712.
Kleinpell, R.M., Grabenkort, W.R., Kapu, A.N., Constantine, R. and Sicoutris, C., 2019. Nurse practitioners and physician assistants in acute and critical care: A concise review of the literature and data 2008–2018. Critical care medicine, 47(10), p.1442.
Leary, A., Maclaine, K., Trevatt, P., Radford, M. and Punshon, G., 2017. Variation in job titles within the nursing workforce. Journal of Clinical Nursing, 26(23-24), pp.4945-4950.
Mortimore G, Reynolds J, Forman D et al., 2021. From expert to advanced clinical practitioner and beyond. Br J Nurs 30: 656–9
RCN, 2018. RCN Standards for Advanced Level Nursing Practice. RCN available online at https://www.rcn.org.uk/Professional-Development/publications/pub-007038