19 May 2021
Diabetic Duo call for transitional care service improvements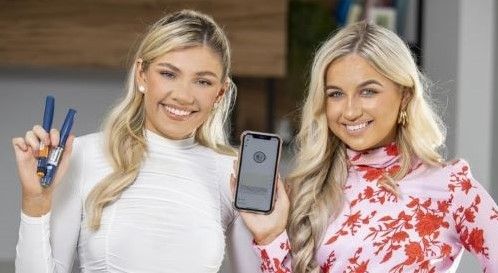 A well-known TikTok duo known for posting about their type 1 diabetes are calling on healthcare professionals to be "more empathetic" towards young people with the condition.
Among viral dancing and make up tutorials on the social media platform, the Diabetic Duo can be found promoting positive and honest diabetes messages.
Beth McDaniel and Ellen Watson, from County Down, both have type 1 diabetes and have made waves within the social media community having attracted more than 22,000 followers.
However, the 21-year-olds have had very different experiences. Beth was diagnosed September 2020 and Ellen, has lived with the condition for 13 years.
"Although it was a shock to be given the news, diabetes wasn't new to me because I've been friends with Ellen forever and my sister also has the condition," Beth explains.
"So, I already knew a lot about the importance of blood sugar monitoring, the sort of technology which is available to me and the importance of maintaining a healthy diet.
"However, I was diagnosed mid pandemic and I get the feeling that I've kind of been overlooked a bit, which I guess is understandable. Luckily because I've been surrounded by diabetes for most of my life I've managed to navigate myself through the diagnosis and make informed decisions about my treatment."
Ellen, who was diagnosed at the age of seven, has seen a lot of different doctors and nurses over the years and has come to recognise what it is she needs from her diabetes healthcare team.
"Diabetes services are either geared towards children or adults," she says.
"But there's no one covering the inbetween bit when you're a teenager so you are kind of stuck in the middle.
"Diabetes has never held me back and I wasn't going to start letting it dictate what I could and couldn't do," Ellen says.
"But I needed someone who I could talk about alcohol and eating junk food with. Everyone knows when you have type 1 diabetes you've got to be careful, but I was still a teenager and I still wanted to experiment and do things that other teens do," she says.
Ellen says she often felt "embarrassed" admitting to her healthcare that she also wanted to live a normal teen life. But that all changed when she met Dr Sarinda Millar, the Consultant lead for the Paediatric and Adolescent Diabetes service within the Southern Trust in Northern Ireland.
Dr Millar recognises the importance of transitional care and launched the charity Type 1 Diabetes Children and Teenagers (T1DCAT) which supports children and young people with type 1 diabetes and their families.
"Meeting Sarinda was a game-changer. She was realistic about my diabetes and how I could manage it alongside all the other things I wanted to do, which many doctors would frown upon," laughs Ellen.
Now they are both settled within adult care, but are hoping the content they produce on TikTok will help others who may be struggling with their diagnosis or managing their condition.
"Type 1 diabetes is not the be all and end all," Beth says. "Yes, receiving the diagnosis is shocking and there's certainly an adjustment period, but you can still live and be happy."
"As far as role models go within the type 1 world there's really only Nick Jonas and Theresa May, so we're all about making relatable content for those who need it most," says Ellen.