14 Apr 2020
Diabetes pharmacist urges healthcare professionals to be "culturally competent" during Ramadan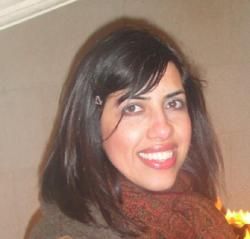 With Ramadan just around the corner we've spoken to a Health Inequalities Pharmacist with a special interest in diabetes and the religious festival about fasting.
Alia Gilani, who is now based in Sheffield and practises Islam herself, says worldwide studies have shown 80 per cent to 90 per cent of those with type 2 diabetes will abstain from eating over the course of the Islamic holy month.
She said: "Firstly, I think it's important to give healthcare professionals an insight into why fasting is so important within the Islam faith. Although the Qur'an does state those who are unwell are exempt from abstaining from food, many people do not want to miss out as there's an immense amount of guilt and a feeling of missing out on an opportunity to spiritually cleanse.
"Most patients can fast safely, the key is to have that conversation with them. They may be on medication which can be adjusted to minimise the risk of adverse effects such as hypoglycaemia."
Alia is often asked to present to healthcare professionals so they can understand more about helping people with type 2 diabetes to fast safely during Ramadan. This year is slightly different because of COVID-19, so she will be presenting a webinar from the safety of her own home.
Alia's presentation will take place on Tuesday, April 21 at 12.45pm. Prior to that, Professor Wasim Hanif, who is Professor of Diabetes & Endocrinology, Consultant Physician and Head of Service in diabetes at University Hospital Birmingham, will also present two webinars on Thursday, April 9 and Thursday, April 16.
Alia added: "It's about being culturally competent and understanding your patient's needs. It's important to give them all the information so they can make an informed decision.
"However, there is always the risk of hypoglycaemia and if the patient has comorbidities, is frail or is older, then more precautions must be taken. I sometimes suggest that a patient does a trial run prior to Ramadan and fast for one day to see if they tolerate it with no adverse effects and then I might adjust medications accordingly. It's also worth reiterating to people with diabetes that they can check their blood sugar levels as this does not constitute breaking ones fast.
"If the person is concerned about fasting then there's also fidya, which is applied when someone cannot fast in Ramadan and can't make up the lost days afterwards because of a chronic health condition. They can then pay fidya for someone else to be fed. According to Islamic Relief the current rate is £5 fidya for each missed fast, so if someone misses all the fasts of Ramadan, they would need to pay £150.
"This educational webinar aims to inform healthcare professionals so they can empower people with diabetes to fast safely."