14 Nov 2019
Diabetes Divas rock up at DPC2019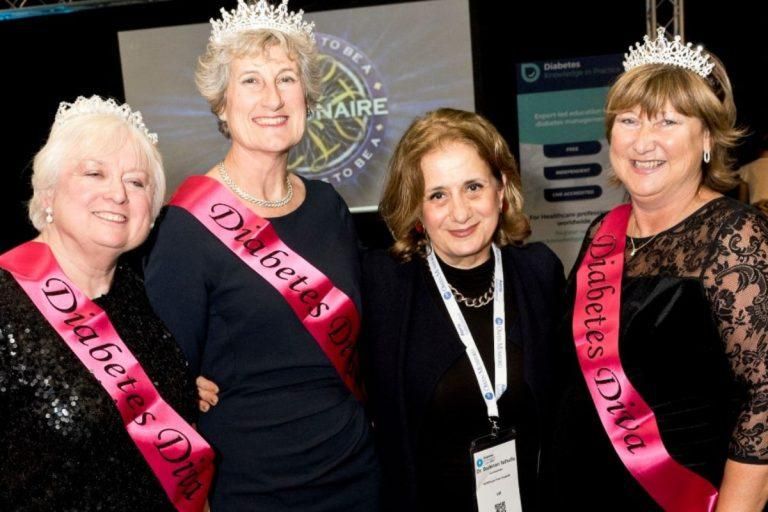 The three TREND-UK chairwomen ensured they made their mark at Diabetes Professional Care 2019 (DPC2019) after turning up dressed as the 'Diabetes Divas'.
The trio all donned black dresses, a tiara and a pink sash with their nickname emblazoned on it for their Diabetes Divas session, which took place on the first day of the free-to-attend, CPD-accredited education event.
There was light-hearted, but engaging interaction, between the three co-chairs June James, Debbie Hicks and Jill Hill with the audience.
The three women, Debbie Hicks, June James and Jill Hill, who have 70 years of nursing between them, fielded questions about their experience working in diabetes care, current diabetes nursing standards as well was what could be in store for diabetes nurses of the future.
Straight after their session they attended the DPC Industry Awards. This year TREND-UK, which represents all diabetes nursing groups, sponsored an award. The TREND-UK Excellence in Nursing Education Award recognised organisations which have contributed to high-quality education for nurses working in diabetes care.
Biopharmaceutical company MSD claimed the winning title, with Napp Pharmaceuticals being highly commended.
TREND-UK was a DPC2019 event partner this year, hosting a dedicated two-day theatre as part of event's CPD-accredited conference programme. In addition, TREND-UK also hosts Injection Technique Matters (ITM), which is chaired by Debbie Hibbs, and launched brand new resources at DPC2019.
Eight educational videos , now available on the new ITM YouTube channel, were officially launched. The concise online content is informative and practical focussing on seven key aspects of injection technique. To register for updates, click here.
Debbie, who is also a Nurse Consultant, said: "Good injection technique ensures that you get the most out of your injectable therapy and achieve the best blood glucose control possible while avoiding complications associated with poor injection technique.
"We are on a mission to spread good practice, with our Back to Basics campaign aiming to revisit the essentials to ensure optimum injection technique."
DPC Founder, Maggie Meer said, "We're really pleased to have worked with TREND-UK & ITM once again this year, to provide a platform for diabetes nurses and healthcare professionals to gain real-world skills, including best practice injection technique.
"The theatre is always well-attended, showing a real need for free, high-quality education for the people on the front line of diabetes care – this is why we're proud to have been working in partnership with TREND to provide a programme which tackles the most essential areas of care."
The board of ITM also includes Dr Debra Adams, Assistant Director of Infection Prevention and Control, NHS Midlands, NHS England and NHS Improvement as well as Specialist Practice Nurse Jane Diggle and Carole Gelder, CYP Diabetes Nurse Specialist.
Resources already produced by ITM include:
ITM is funded by B. Braun UK, GlucoRx and Owen Mumford.