26 Mar 2021
Dexamethasone and COVID-19 guidance for care home residents with diabetes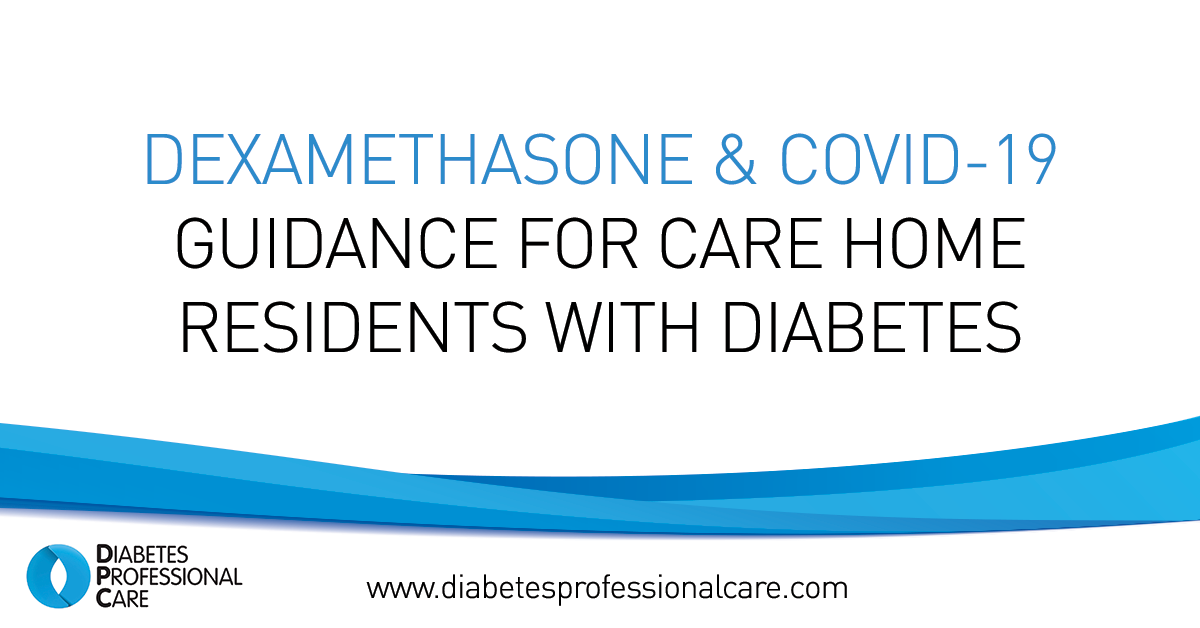 COVID-19 has had a "significant impact in terms of morbidity and mortality," says a top professor who specialises in diabetes among older people.
With Dexamethasone being given to more people to treat coronavirus, Professor Alan Sinclair is concerned about how the drug is impacting older people, particularly those who are in care homes or long-term care.
"We already know that Dexamethasone can significantly affect diabetes control, but as it's shown to be highly effective at treating COVID-19 it's being regularly prescribed. However, this introduces more challenges," he explains.
So, to help care home staff look after people with diabetes who are being treated for COVID-19 with dexamethasone or receiving oxygen treatment, Prof Sinclair has helped draft guidance on the subject.
Published by the European Diabetes Working Party for Older People (EDWPOP) and European Geriatric Medicine Society (EuGMS), the document addresses the need to provide clinically relevant and practical guidance for long-term care staff working in care homes who require consideration for Dexamethasone and oxygen therapy.
Entitled 'Dexamethasone and Oxygen Therapy in Care Home Residents with Diabetes – A Management Guide and Algorithm for Treatment' it was drafted as a rapid response statement following a series of consensus discussions between the EDWPOP and EuGMS in January and February 2021.
Its main aim is to minimise morbidity and mortality from serious acute illnesses including COVID-19 requiring these treatments within the long-term care sector.
"COVID-19 has had a significant on older people in terms of increased morbidity and mortality," Professor Sinclair says.
"In many countries, long-term care centres have been the epicentre of the pandemic, with the incidence and severity of illness and mortality shifted towards older people, particularly those with multiple comorbidities such as diabetes, hypertension, and cardiovascular disease.
"In addition, a quarter of residents have diabetes and two-thirds may have frailty which is a better predictor of intensive care unit (ICU) outcomes than age or other factors."
The guidance includes advice for managers and owners of long-term care facilities, including insulin use in residents with diabetes requiring dexamethasone and clinical alerts.
In addition, an oxygen flow rate titration guidance was included in the document, as well as an algorithm for oxygen and dexamethasone therapy in long-term care.
"The implementation of this guidance in the UK in full or in part will require it to be locally adapted and agreed between hospital-based specialists, community-based health professional teams and GP-led services which interact with the care team, to provide direct clinical care," Professor Sinclair says.
"There will be no doubt that this will be a challenge to care homes that wish to provide treatments of this kind and who will need some upskilling and training of their care staff. The vaccine roll-out will of course be a boost for care homes but we still may be facing other threats such as covid variants and other severe acute illnesses that require these treatments as an alternative to hospital admission.
"Crucially, these treatments will also require respect of the individual's values and preferences or that of their family if consent is not possible."
To read the document, click here.